Electronic records are a reliable way to record important information that would otherwise be lost. Paper records, receipts, and invoices can be misplaced and are often difficult to access when needed the most. This includes medical documents vital to DME billing, including prescriptions, authorization notes for prostheses, treatment advisories and more. For a healthcare business, the loss of or inaccuracies in any of these critical documents can mean the difference between getting paid or not paid. Even in pre-COVID-19 times, the figures for medical bill payments were bordering on dismal. A Becker's ASC review reports that in 2016, as many as 68% of patients, with up to $500 in medical bills, didn't pay the full balance. This was a 19% increase from the year 2014.
This year, due to COVID-19's impact on the economy, the numbers are expected to be worse. Electronic records can more effectively streamline DME billing. Here are some positive considerations: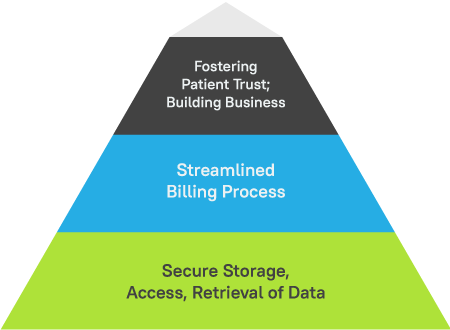 Track records faster: Digital storage makes for easier access, tracking, and retrieval of data, whether for claim processing or for audits. In a traditional scenario with paper records, there is a significant chance of misplacing or losing important items. 
Ensure regulatory compliance: Compliance is essential to business planning for long-term growth. Choosing electronic record keeping can help meet compliance requirements more easily, including ease of access. For small businesses looking for reliable help managing medical billing data, a HIPAA-compliant services provider can be very useful.
Secure/store data better: Digital records are encompassed by better security. They are safe from physical threats such as fire, water, and even lack of storage space. Access to information is authorized through passwords or other forms of regularly monitored digital recognition. When managed well, digital record-keeping also enables reliable backups, even in the face of crisis or unforeseen destructive events.
Build stakeholder trust: For a healthcare business, delivering a memorable experience for the patient is primary to ensuring return business. This includes how patients perceive the DME billing processes followed, including managing confidential medical information, or informing of financial changes and payment matters, or even something seemingly simple such as follow-up reminders. Electronic records can be customized to deliver relevant information that can help businesses build trust through streamlining operations.
In an unpredictable landscape, adapting to digital technology has allowed small businesses, including those facing imminent closure, to recover. Digital technology is not restricted to tools and software dedicated to making distance collaboration easier, it is also allowing businesses to streamline everyday operations, eventually working towards sustainability and growth.
For small businesses facing financial challenges, it may not be possible to digitally revamp operations or even supplement recovery efforts with new investments in technology. One of the best ways to overcome this challenge is by outsourcing DME billing tasks. Outsourcing allows businesses to access proven technology without the associated hassles of investment and maintenance, while also saving on costs.
What's Next?