News & Events
Analytix Healthcare Solutions Will Exhibit at the PAMS 2023 Annual Convention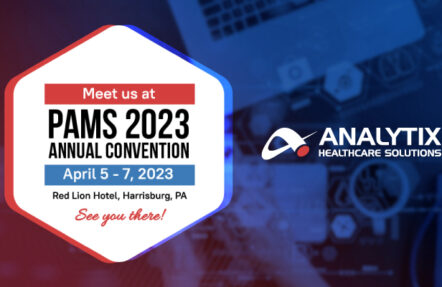 Woburn, MA, March 30, 2023 – Analytix Healthcare Solutions will be participating at the Pennsylvania Association of Medical Suppliers (PAMS) 2023 Annual Convention from April 5 –7, 2023, at the Red Lion Hotel Harrisburg Hershey in Harrisburg, PA.
PAMS (Pennsylvania Association of Medical Suppliers) is a trade union for Durable Medical Equipment, Prosthetics, Orthotics, and Supplies (DMEPOS) traders for Pennsylvania and Delaware. PAMS is focused exclusively on the durable medical equipment (DME) market. The show brings together thousands of durable medical equipment manufacturers, DME technology, and personal health product providers to educate members and connect with industry experts.
Analytix Healthcare Solutions is an end-to-end provider of revenue cycle management (RCM) services for durable equipment companies and physicians. We help DME providers maximize operational efficiency and financial management by handling RCM tasks like patient verification, insurance eligibility, follow-up, sales order creation, scheduling delivery, insurance claims, denials, and collections. Collaborating with Analytix leads to best practices and a high-quality service delivered to patients.
At PAMS 2023, we will discuss important changes affecting the DME industry and new products and ideas that could benefit the industry. PAMS is a great event for building new relationships within the industry. The association remains an active voice in durable medical healthcare in Pennsylvania, Delaware, and the rest of the United States.
At this exhibition, we will showcase our full range of comprehensive and customizable medical billing services, which are designed to provide end-to-end solutions. We'll be networking with others in the industry, so be sure to take advantage of this opportunity to learn more about our services, which are designed to simplify HME/DME processes within your organization.
By attending PAMS, you can learn more about how our advanced technology and industry expertise can reduce the administrative burden on your staff and thereby boost both revenue and productivity.
We hope to see you there.
Analytix Healthcare Solutions Team
sales@analytix.com | 781-503-9000