News & Events
Analytix Healthcare Solutions Will Exhibit at the HOMES 2022 Fall Conference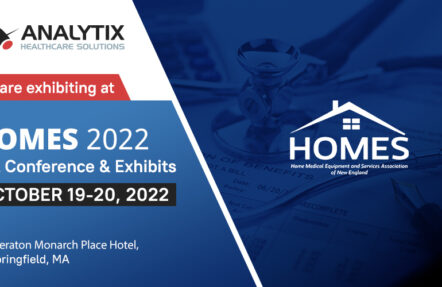 Woburn, MA, October 12, 2022 – Analytix Healthcare Solutions is excited to announce that we will exhibit at the Home Medical Equipment and Services Association of New England (HOMES) 2022 Fall Conference from October 19-20, 2022, at the Sheraton Monarch Place Hotel in Springfield, MA. Also, on October 20, 2022, Allan Bell, our VP of Data Management Services, will speak at the conference. He will share how billing & operations managers and DME owners can use data analytics to drive decision-making and impact operations.
The Home Medical Equipment and Services Association of New England (HOMES) is the regional trade association for home medical equipment and supplies, home oxygen and infusion therapy providers, and complex rehabilitation technology. Founded in 1988, HOMES works together to support the common goals and interests of the HME industry. HOMES provides HME providers and product manufacturers with an opportunity to work together in accordance with the current government regulations and reimbursement guidelines.
Analytix Healthcare Solutions is an end-to-end provider of revenue cycle management services for medical equipment companies and physicians' offices. We help medical providers maximize operational efficiency and financial management by handling insurance eligibility, claims, denials, and collections. By partnering with Analytix, medical providers can use best practices and deliver high-quality services to patients. Please register for the event and visit us for more information.
We hope to see you there!
Analytix Healthcare Solutions Team
sales@analytix.com | 781-503-9000