News & Events
Analytix for HOMES 2023: Enhancing Healthcare Solutions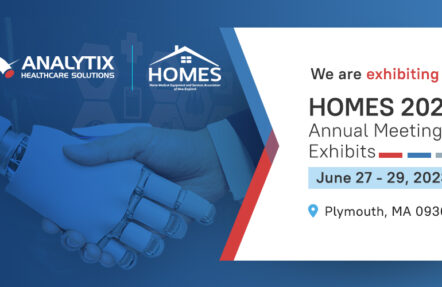 Woburn, MA, June 26, 2023 – We are delighted to announce that Analytix will be exhibiting at the HOMES 2023 Annual Meeting & Exhibits event. This prominent event, organized by the Home Medical Equipment and Services Association of New England (HOMES), brings together industry leaders and professionals from the home medical equipment, supplies, and healthcare services industries. The event will take place on June 27, 2023, at the Hotel 1620 in Plymouth, MA.
Established in 1988, HOMES is the regional trade association for providers offering home medical equipment, home oxygen and infusion therapy, and complex rehabilitation technology. By fostering collaboration and providing support, HOMES enables HME/DME providers and product manufacturers to navigate constantly changing government regulations and reimbursement guidelines.
About Analytix Healthcare Solutions: Analytix is a leading provider of revenue cycle management services for medical equipment companies and physicians' offices. Analytix is dedicated to optimizing operational efficiency and financial management and empowers healthcare providers to navigate complex reimbursement processes, increase cash flow, and deliver exceptional patient care. By handling crucial aspects such as insurance eligibility, claims, denials, and collections, Analytix helps streamline processes, optimize revenue, and ensure high-quality service delivery to patients.
We invite you to connect with us at HOMES 2023. Speak to our dedicated team of experts to gain valuable insights into revenue cycle management, explore innovative solutions, and discover how Analytix can assist your organization in achieving financial success while maintaining compliance with industry regulations.
Mark your calendars for June 27, 2023, and register for the event by visiting the official HOMES website at homesne.org/event-5245611.