Ensure accurate registration patients or rush to catch a prospective new business lead that could boost your DME/HME by a few thousand dollars each month? Accurate registration is vital for patient payments to your DME/HME, while following new business leads could help bring in more revenue. This may be the classic predicament faced by owners and founders of startups and small DME/HME businesses, with no immediate or easy solutions in sight.
Over the past year, most DME/HME businesses have had to multi-task: managing regular orders, dealing with COVID-19 complications, and dealing with other challenges, including financial worries. For DME/HME startups and/or small to mid-sized businesses, this has been especially difficult. Poor or inefficient medical billing practices further add to cash deficits within the business. A report by Healthleaders Media underlines the need for efficient medical billing. Manual processes and big bills contribute to payment lags, while 77% of providers say it takes more than a month to collect payments.
An efficient medical billing process is critical for a sustainable, growing DME/HME.
Growth prospects this year need to be carefully planned. If you are looking at business growth for your DME/HME, here are some considerations from our experts:
● Begin right
Patient billing typically involves recording patient invoices. The traditional method is often paper-based with print-outs of registration that are filed away. Invoices are mailed to patients and communication is initiated to ensure payment is made.
While nothing can ensure that payment is made, a streamlined process can influence the chances of timely payment. Registering patient details accurately is a good place to begin.
● Leverage technology
Given the high volumes handled by many DME/HME businesses, errors may be unavoidable at times, especially for startup and small businesses where owners and founders routinely multi-task. This can result in lost or misplaced papers and worse, records of patients yet to be registered but for whom therapy has already been started.
Leveraging technology, even selectively, can help businesses ensure more complete patient records and reduced chances of misplaced or incomplete registrations.
● Choose cost-effective solutions
Given the financial challenges small businesses routinely face, it is important to explore solutions that are effective, proven, and reliable. These solutions should provide workforce staffing and training solutions, data accuracy solutions, and high outstanding AR remedies. Seeking a timely solution for these business challenges is critical. Business sustainability depends on it.
DME/HME businesses can benefit from professional DME billing services as they negotiate the difficult landscape of successful recovery and cost savings. This ultimately makes the operations stronger, leading to business growth.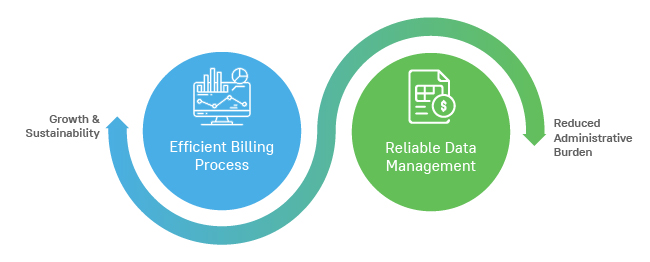 Success stories
One of our clients considers Analytix Solutions a big reason for its business growth. With Analytix's help, their medical products business has consistently achieved a 96% medical billing collection rate. We have simplified their front-end billing so they can focus on their strengths. They thank us for providing the opportunity and time to focus on nurturing meaningful patient relationships, while our real-time reporting allows them to grow their business.
Another HME client, after a 6 months partnership, is thrilled to utilize our team's services. According to them, the communication, execution, and responsiveness have been exactly what they had hoped for. When issues occur, our team addresses them with utmost importance, provides quick resolutions, and takes measures to ensure similar problems do not arise. By having Analytix take on specific functions, the staff is able to focus on more productive areas. This client strongly recommends Analytix to anyone looking for staffing solutions.
What's Next?