A DME/HME is paid only after the insurance claim is made and processed effectively. One of the critical components of successful claim processing involves making sure the information submitted for claim processing is complete and correct. Incorrect claims can lead to denials. According to a report by the American Hospital Association, quoted in an online report by Revcycle Intelligence, a healthcare media company, 89% of hospitals and health systems have experienced an increase in claim denials over the past three years, of which 51% termed the increase as significant.
Here we outline two practical ways for DME/HME claim denial management to help reduce the chance of a denial.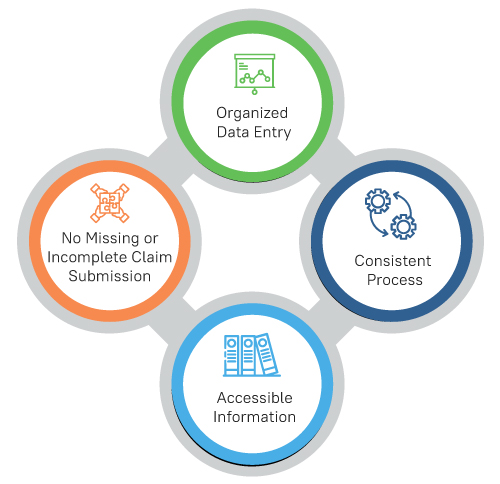 Focus on prior authorization
There are a number of reasons claims may be denied. Missing paperwork, incomplete details, and unclear insurance details can be reasons for claim denials. Focusing on prior authorization can help prevent missing records. Prior authorization requires correct recording of data and trained staff to manage this data, store it in a manner that is easy to access and retrieve as needed, and ensure the process is followed consistently, across the business and with each new patient registration.
Resolving it: Steps to take for successful prior authorization include automation of the data entry and established documentation that is consistent across the business. Staff must be kept updated about this, and if needed, trained in managing relevant data in an effective manner.
Assess patient eligibility for insurance payments
Denial management can be addressed through diligent assessment of eligibility for insurance payments. Assessment of a patient's eligibility can be critical to claim processing and payments. This involves verifying information provided, confirming health insurance details, and ensuring all health insurance provider information is up-to-date and accurate.
For small businesses and startup DME/HME businesses, this may be the responsibility of the owners or founders. Denial management may be unwittingly neglected due to focus on patient and customer-facing work.
Resolving it: HIPAA-compliant professional medical billing services can be immensely helpful in assessing patient eligibility.
Choosing professional medical billing assistance
Professional medical billing can be critical to DME/HME businesses focused on long term growth and sustainability. Tapping into professional assistance enables the business to access expertise and proven reliability without making huge capital investments which will affect sustainability. Professional medical billing service providers can provide guidance, streamline patient data management for effective retrieval when needed, and eliminate the prospect of errors or missing and incomplete information.
Next Steps
A DME partnership can provide the right assistance and expertise to reliably manage DME/HME data so the business can continue to focus on providing quality healthcare.
Email us at sales@analytix.com or call 781.503.9000 for a free session.