Revenue Cycle Management (RCM) is critical to the accurate and efficient reporting and payment collections. There can be many reasons for delay in payments, but judicious management can significantly reduce them. For business owners, it is vital to stay focused on the main goal: ensuring a streamlined process for revenue management that is consistent and proven and helps reduce delayed payments and non-payments.
Errors in medical bills, including overcharging, are common. A Becker's Hospital Review says that up to 80% of medical bills contain errors.
Here are 3 common RCM difficulties and how outsourcing your medical billing can help address them.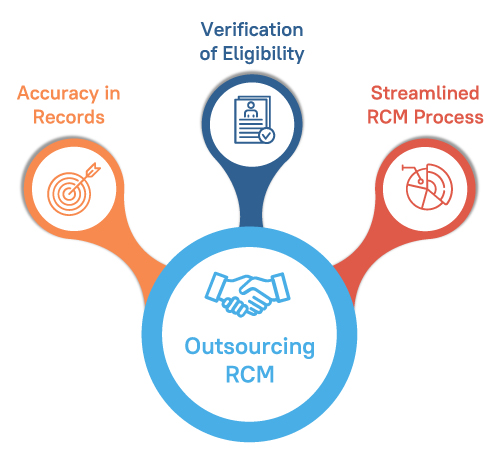 1. Incomplete/Inaccurate patient verification
Insurance companies may deny claims if patient verification is inaccurate or incomplete. Whether addressing patient co-payments or insurance provider in-network listings, ensuring complete and accurate patient verification is central to being paid.
Addressing it: Outsourcing enables the deployment of real-time patient verification. This works especially well for busy DME/HME startups and small businesses that currently complete patient verification in-house. Lack of time and resources prevents DME/HMEs from providing the diligence needed for accurate billing. Outsourcing ensures complete verification as well as providing the confidence that information is accurate.
2. Multi-tasking staff; lack of training
Most DME/HME businesses are patient focused, and rightly so. Ensuring the right therapy and equipment reaches patients at the right time can cause medical billing or business RCM to assume a lower priority. Owners may not possess the expertise to complete accurate billing nor have staff that is trained to do so. Most commonly, a multi-tasking staff requires the same set of individuals who provide patient care to also complete complicated paperwork and back-office tasks.
Addressing it: Outsourcing allows DME/HME businesses to hit the ground running. Choose a service provider or partner who understands your business, thus ensuring the solutions are relevant to your unique requirements. Outsourcing provides businesses with dedicated staff, which frees up DME/HME staff. Outsourcing also provides paperwork that is accurate and error-free and furthers the main task of the DME/HME business: meeting therapy requirements.
3. Haphazard organization of records
This particular RCM difficulty overlaps with the issue of busy DME/HME staff: A busy DME/HME owner or employee may not be able to conduct a detailed registration of a patient while also focusing on medical requirements. While completing a detailed registration a paper record may be created that is then filed away. Unfortunately, this can result in files that may be inaccurate or missing critical patient information. Often, the significance of this information is realized only after the patient has left and may not even be traceable.
Addressing it: Outsourcing begins with streamlining the registration process. Real-time registration results in accurate registration. Backed by efficient verification processes, this record-keeping works effectively towards accurate claim applications, thus contributing to timely payments and a more streamlined RCM process.
Key takeaways for DME/HME businesses in managing RCM related difficulties:
Addressing issues when they happen, pursuing new business opportunities, and communicating with patients are important activities. However, focus on these processes can result in a DME/HME neglecting important issues and avoiding streamlining the actual RCM process. This results in the same issues recurring, and eventually causing unpaid invoices and reduced cash for the business.
Vulnerabilities like inaccurate or incomplete records can result in delayed payments or rejected claim applications. These are entirely avoidable when partnering with professional help or when you outsource medical billing to a professional:
Work at streamlining infrastructure for the long-term instead of handling cases on your own.
Resolve each case, but also streamline your systems.
Build a patient registry that is dependable, updated, and reflects the ethos of the business itself: growth with care, resulting in referral business as well.
Next Steps
Choose the right billing partner to access relevant financial assistance, infrastructure, and expertise to empower your DME/HME to continue focusing on providing quality healthcare.
Email us at sales@analytix.com or call 781.503.9002 for a free session.