Automation of appointments can bring your business several benefits, including smoother functioning and streamlined operations. Appointment automation helps streamline clinical and medical documentation, ensures better record keeping, and establishes improved and secure access to patient data. According to a report by Research and Markets, the mid-revenue cycle management/clinical documentation improvement market is expected to reach $4.5 billion by the year 2023.
Improved efficiency; reduced losses
Automation of appointments can help DME save the time that manual creation requires. Other inefficiencies associated with manual appointments include duplicated efforts in case records go missing, loss of productivity for the limited resources running the business, and the physical storage requirement for paper records. All of these issues can be resolved by automation. For a startup or a small DME/HME, this translates into huge time and resource savings. Paper records can be easily misplaced or can prove inaccessible due to the sheer work responsibility of a limited staff. Automation takes care of both challenges: 1) vital appointment information is consistently recorded, and 2) the information is available as and when needed, whether for business building purposes, or at tax time, or for an audit, if one should happen.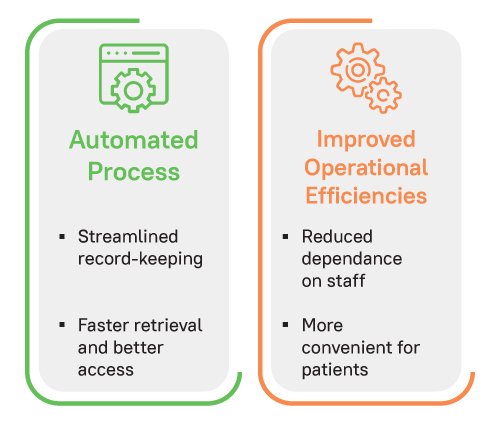 Patient-focused scheduling
If a staff member in a small DME/HME is looking for records or facing difficulty in locating them, this can be perceived as inefficient management for a patient. It can also negatively impact the image of the business as one keeping up with industry best practices and trends. Automation allows DME/HME businesses to create appointments at a convenient time for each patient. Unlike in a manual system, automation has flexibility to change, create, and reschedule conveniently. More importantly, other associated functions, such as documentation of patient details, can be quickly and easily recorded.
Apart from increased convenience, automation of appointments translates into a better experience for the patient, fostering trustworthiness for the DME/HME and leading to return business as well as increased referrals.
Improved and reliable medical records
Appointment automation is a first step towards creating reliable medical records for the DME. Automation of appointments enables for easy categorizing and organizing of this critical data. The need for detailed and historical medical data can arise at any time, especially if the DME needs to fund credit or provide financial aid, causing business operations to come under scrutiny. Automation ensures operations streamlining to ensure there is no loss of data and critical information, especially when it would compromise patient safety and well-being.
Operating sustainably
As DME/HME businesses explore the route to recovery through the uncertainties of COVID-19 and supply and stocking, a DME partnership opportunity offers prospects of convenient adoption of automation technology. DME/HME can leverage the partner's resources and infrastructure while also helping save costs and expenses the business would otherwise incur on in-house investments. The confidence that a professional partner offers can decrease the risk faced by DME/HME businesses in dealing with medical records that are non-automated.
What's Next?
A DME partnership can provide the right financial assistance, infrastructure, and expertise to empower your DME/HME to continue focusing on quality healthcare.
Email us at sales@analytix.com or call us on 781.503.9002 for a free session.