HME/DME medical billing processes can be extremely complicated and often time-consuming for the in-house resources that manage the equipment provider business. Inaccurate or unreliable medical billing can quickly become challenging for the HME/DME provider. This can especially happen when claim denials pile up while the staff is prepared to quit due to burnout.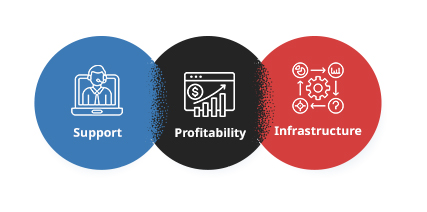 Optimizing Opportunities
Staff attrition can hurt a business because of heavy investments in hiring and training staff. Attrition can also hurt the business because the remaining resources in a short-staffed business often cannot devote enough time and attention to upgrading themselves professionally. Additionally, resources might fail to contribute to business growth in a highly competitive environment.
As new technologies and equipment enter the durable medical equipment (DME) markets, HME/DME provider businesses must invest in learning and training to leverage opportunities. According to a news report in HME News, Great Elm Group's DME companies grew total revenue for the first quarter of 2022 by 7% to $16.7 million compared to the prior-year period. The company achieved this revenue growth despite ongoing global supply chain issues that impacted the durable medical equipment market.
The COVID-19 pandemic paved the way for large-scale technology adoption across several industries around the world. New discoveries keep happening at all levels, even in the durable medical equipment markets. Also, the current landscape remains all about adaptability. For ambitious and fast-growing HME/DME provider businesses, not keeping pace with change could negatively impact business sustainability. Outsourced assistance from a professional HME/DME medical billing provider can help businesses address these challenges.
Ensuring Accuracy in Claim Application
Many small to mid-size (and even larger) HME/DME provider businesses must ensure accurate and timely billing, as this process can become the biggest challenge. Medical billing is time-consuming. Here, document review and research can continue for the life-cycle of the order, terminating only when successful claim applications yield adequate compensation.
The accuracy of the earlier stages in the medical billing process is revealed only once a claim is filed. Insurance providers may reject claims or deny them on the grounds of inaccurate or incomplete entries. In this case, the patient's documentation needs to be revisited, which means investing even more time and attention into this issue.
Professional billing can help ensure greater accuracy from the start. This is because it is carried out by experts who work on current and modern infrastructure, including automation software. Here are some more ways in which professional billing assistance can help HME/DME provider businesses:
Augment Existing Resources
Providers of professional medical billing services can take over the entire workload or share it by augmenting resources where needed. In-house resources can then utilize their free time to contribute better value to client deliverables.
The HME/DME provider does not require investments in infrastructure for professional medical billing. Their equipment and infrastructure are robust and current. Furthermore, their team of professional experts does not require training, investment, and benefits from the HME/DME provider. This helps the business save on infrastructure and manpower costs.
Help Your HME/DME Provider Business Perform Better
When in-house resources are freed-up, they can focus on learning and training, which contribute to business growth.
Help your HME/DME provider business stay abreast of new legislation
Because professional medical billing providers assist multiple clients, they are on top of any new legislation and regulatory requirements. This means the HME/DME provider is on the right side of the law.
Next Steps