Today's businesses are all about automation and using robust technology to replace manual work. This helps businesses like yours grow faster and increase sales.
EHR forms a major component of a DME/HME business and can be managed securely with the help of medical software. If you are looking for better ways to manage the EHR in your DME/HME business, the below information could be useful.
Solution
Add medical software to automate the business process from order management to insurance claims.
Outsource medical billing services to reduce both work and management costs.
Medical software is fully equipped with essential features to more smoothly run businesses and move core aspects online for better productivity. This is an advanced solution for all organizations that offer DME/HME services.
Medical software automatically intakes orders from patients and processes them to get authorizations from all the departments. Without questions to answer, you can focus on other parts of the business.
Features of medical software
Electronic Health Records (EHR)
Easy access to patient data
Online patient records (no paperwork)
Complete patient profiles (with a medical history and medication list)
Consultant notes and documents
Patient care plan tracking and other guidelines
Patient connectivity to provide updates
Appointment scheduling
Automated billing
Claim Management
Inventory Management
Medical Billing deals with all internal and external departments to complete patient orders. It is responsible for processing patient applications, verification, and medical claims. Time and again, medical billing has to maintain accuracy to ensure precise orders. It is a hectic process that can slow your business with continuous order cancellation.
To ease this process, consider outsourcing medical billing. It is an essential step to meet the market needs and avoid billing errors.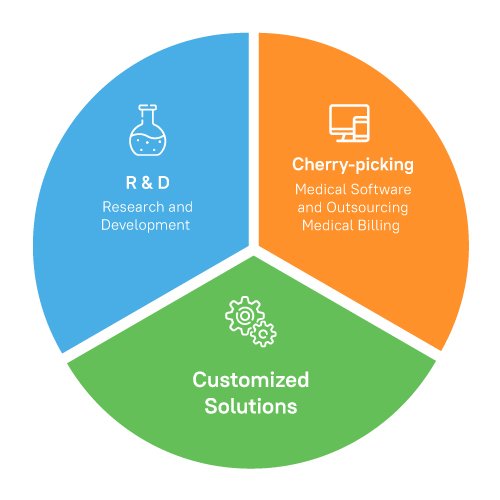 Consider hiring Human Resources (HR) and services to manage the medical billing department from a country that offers resources at a low cost. Such an organization will take full responsibility for processing orders accurately, verifying patient data, and completing insurance claims.
Benefits of outsourcing
Cost-effective solution
Accuracy and productive work
Team expansion
Experienced candidates
Faster order processing
Increase in sales
Focus on business development
Guaranteed resolutions
Accurate invoices
Services offered by medical billing outsourcing companies
Managing patient records
Patient background and medical document checks
Insurance verification
Appointment scheduling
Creating sales orders
Reviewing and logging CMNs
Sales order confirmation
Claims submission
Payment posting and clearance
Denial management
AR follow-up
Transparent reporting
Customer management
Error-free invoices
Investment and expenses
On average, the best medical software costs around $550 per month. This may differ from the software you choose. There are plenty of software products available in the market to meet your needs. Here is the list of the top five medical software products.
NextGen
Brightree
Practice
WebPT
eClinicalWorks
In addition, outsourcing medical billing services can bring down management costs by 60%. Outsourcing companies can provide more expertise and resources at minimal costs. These companies have access to unlimited resources and are highly qualified to work for DME/HME.
Example – If an in-house resource costs $40/hour, then you can get an expert candidate at $18 or less from an offshore medical billing company.
Conclusion
DME/HME needs to consider medical software that comes with more features and functionality. In addition, you can compare software features and then select the one that is best for your practice. Likewise, there are many outsourcing medical billing services providers. It is advisable to select a reputable company that can strive for accuracy at all levels. To narrow down the search, select a company with a wide range of experience. We believe medical billing solutions should focus on time management, accuracy, a strong reporting system, and maintaining up-to-date accounts/bookkeeping.
Next Steps
Analytix Healthcare Solutions have operated for 15+ years and have expertise in this industry. Contact us today to learn how we can leverage your business and how our partnership benefits DME/HME operations.
Email us at sales@analytix.com or call 781.503.9002 for a free session.
Link to the article "Electronic health record usability"