Medical billing is a complicated process for DME/HME businesses. The need for accurate and watertight recording of patient information and health records is a first step.
The need to be compliant with HIPAA guidelines is an additional layer to the record-taking process. If you are choosing to carry out your DME medical billing in-house, there are aspects you must keep in mind.
#1. Securing patient information
Patient information falls under the purview of HIPAA as Patient Health Information. This means that collecting it, recording it, and storing it, for access as needed, must be done in a compliant manner.
Action item: Train your staff in DME patient health information collection, storing, and securing access to it. Secure access also helps in the case of an audit or the need to share information when determining the financial health of the company.
Challenge area: Staff burnout as they follow compliance directives can quickly become a major problem for a DME, especially as volume of orders goes up.
#2. Ensuring in-house staff training
In-house medical billing involves training staff in processing paperwork. Apart from ensuring patient health information such as demographics, doctor's orders, therapy prescriptions, and test reports outlining medical history, DME billing has an additional element to record-taking that calls for the need for strong in-house training: due diligence. In the case of payments received through insurance reimbursements, insurance verification on rental medical equipment is critical to research patient documents, ensure prior authorization where required, and even research the insurance terms thoroughly to keep at bay any nasty surprises at a later stage.
Action item: Investing in reliable software, understanding it, and ensuring all in-house staff is trained in its use is vital to ensuring error-free medical billing.
Challenge area: In-house training is time, attention, and money-intensive. However, all this investment can backfire when coupled with physical burnout. Your staff may choose to quit, negatively contributing to the firm's attrition rate.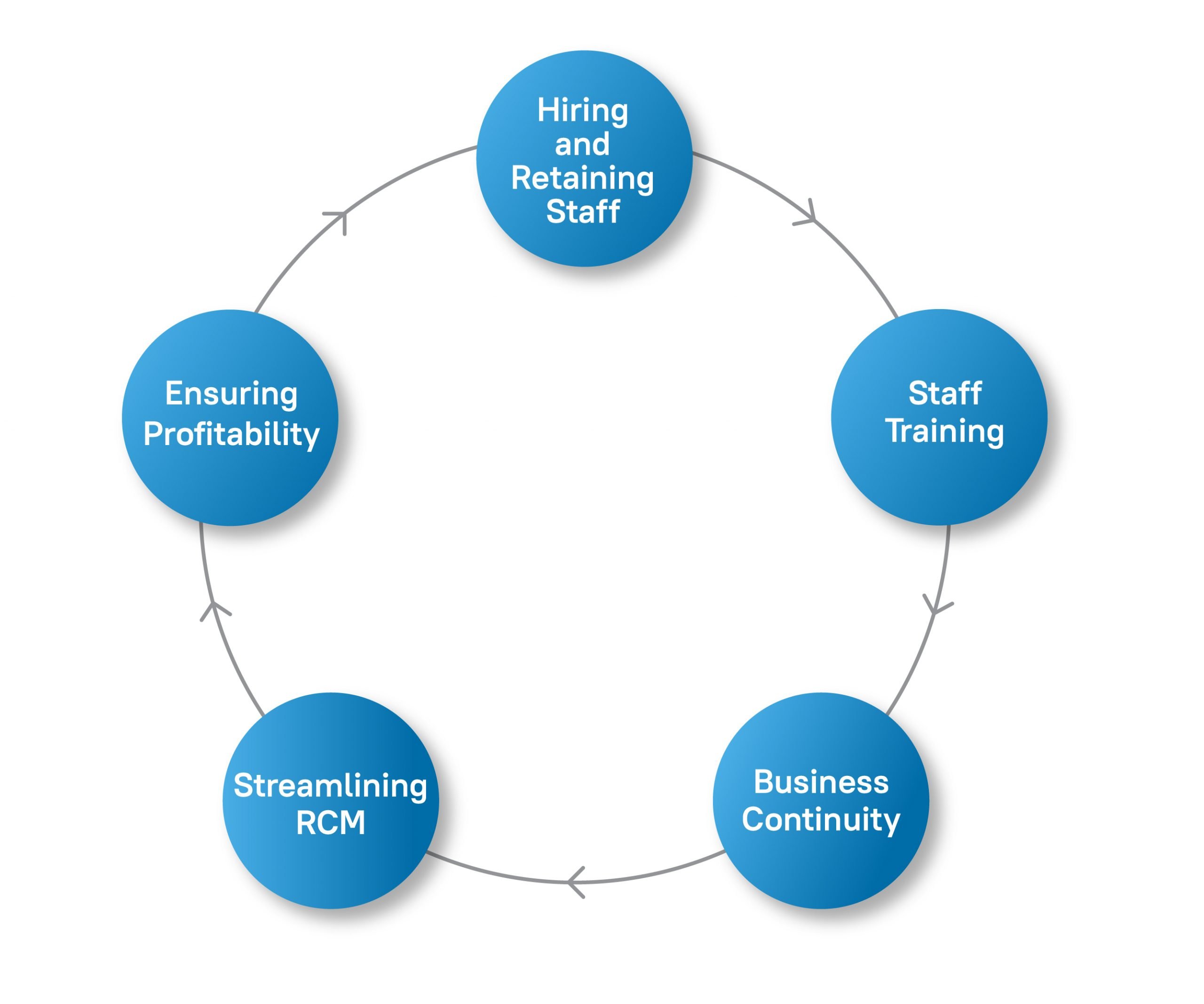 #3. Avoiding inefficient Revenue Cycle Management
Revenue Cycle Management (RCM) is the key component of DME billing. If you choose to carry out in-house medical billing, it is important to ensure your hardware and software systems are reliable and equipped.
Action item: Ensure error-free order-taking to help RCM processes operate smoothly and efficiently without interruptions.
Challenge area: Efficient RCM ties closely with staff training and error-free order-taking. RCM can suffer when the firm faces attrition. Business continuity is also affected when people quit a job, and this interrupted continuity also contributes to poor RCM and inefficient financial management.
#4. Ensuring profitability
DME profitability requires similar effort as that of businesses in any other industry, with a single difference: it is health care and thus, profitability may be put on the backburner by the business operators, even unwittingly at times, negatively affecting business profitability.
Action item: Try not to lose focus of the fact that your DME needs operational assistance, and eventually, profitability, to succeed.
Challenge area: Ensuring streamlined operations can be difficult when a firm is also fighting attrition and interrupted business continuity for any extended time period.
#5. Scaling up
Businesses need to rally resources to support steady growth and development. Unfortunately, the combined influence of attrition, interrupted business continuity, and the pressure to hire, train, and retain employees can negatively impact the ability of a business to sustain itself and grow.
Action item: Reaching out to a professional services agency can enable businesses to gain freedom at a number of levels: freedom from the worry of staff turnover, freedom from the hassle of training and paying higher-cost salary packages, as well as freedom from the loss of money that accompanies attrition.
Challenge area: Choosing the right outsourcing providers to ensure medical billing can be a challenge. The right outsourcing partner should be HIPAA-compliant, able to understand the needs of your DME, and capable of executing medical billing accordingly.
Next Steps