Businesses today can drive profitability through more efficient and streamlined processes. However, an HME/DME provider's main business operations can be challenging and often extremely complicated.
Aside from the pressure of ensuring the right customer experience and addressing a business's needs correctly, difficulties may arise from multiple sources. These reasons can relate to sourcing medical equipment, packaging and transporting, and timely supply. Additionally, the business may not develop a competitive edge despite addressing these logistical problems on time.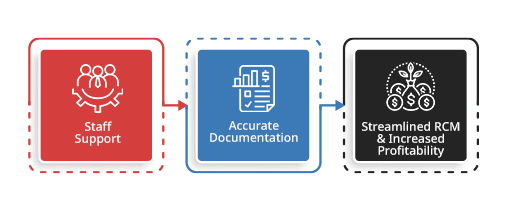 Don't Just Deliver Right; Build the Competitive Edge
HME/DME providers must address different challenges at multiple levels to build a competitive edge. These can include:
Ensuring streamlined operations on a day-to-day basis
Stringent controls over Revenue Cycle Management (RCM) to ensure increased bottom line and better liquidity for the business
Motivated in-house staff to ensure participation in business growth goals and development
Accuracy in claim application filing, which can help you get paid on time
Addressing any payment delays faster and in a satisfactory way.
Staff attrition is one of the key challenge areas in medical billing if you are an HME/DME provider or a business owner. Aside from causing losses in terms of costs invested in hiring and training efforts, attrition also robs the business of critical assistance needed:
to meet client requirements and deliverables
to contribute to business growth goals
to be able to open new revenue-generation channels
to add to overall business profitability.
What can be a possible solution?
Businesses can perform better by partnering with professional HME/DME billing providers. These providers can take over the critical aspects of the medical billing process. Here are some of the ways HME/DME providers can gain a competitive edge for their business:
#1. Streamlining the RCM
Revenue Cycle Management, or RCM, is the backbone of profitability for an HME/DME provider. However, given the complexities associated with medical billing, streamlining RCM can be challenging for most businesses. Hiring a professional billing expert ensures better tracking of transactions and dues, including unpaid bills and invoices. Access to this information allows businesses to pursue collections more efficiently.
#2. Ensuring Better Document Review
Medical billing requires in-depth document review, especially for HME/DME providers. This includes checking insurance credentials and medical authorizations. In-house resources and staff can find this time intensive, as it adds to a heavy workload. Given the time-consuming nature of the work, staff also often lose opportunities to contribute to the larger growth goals of the business. Hiring professional billing assistance helps ensure error-free document review. Plus, it also frees up in-house resources to contribute significantly to other areas within the organization.
#3. Ensuring Accuracy in Claim Filing
After a claim is filed, the insurance agency verifies it, and the HME/DME provider then receives payment. There are typically several steps involved in this process.
It may occur that the insurance agency does not feel convinced about the information provided at any stage of the process.
Alternatively, the payment process can come to a standstill if there are errors or inaccuracies in the claims that are filed. This can lead to delays in payment for the HME/DME provider and can affect the business bottom line, which can in turn affect investments and other decisions for the business.
Leveraging professional HME/DME medical billing assistance can help providers ensure timely and more accurate claim filings and submissions. This typically helps ensure business liquidity in the long run.
Empowering In-House Resources
The process of addressing business challenges also considers immediate needs, such as boosting profitability and cutting costs. But it also helps with the long-term perspective, such as ensuring staff morale and allowing in-house resources to have breathing room or education to add value to their existing deliverables. Freeing up resources from time-consuming and attention-intensive work can also help cut down on attrition and burnout rates, thus empowering contribution to business growth goals.
Next Steps