As part of their professional responsibilities, HME/DME providers consistently deal with medical billing inaccuracies. They face multiple business challenges, such as safeguarding medical data and documents, filling in claim applications correctly, managing claim rejections, payment delays, and reliably maintaining business operations.
Here are three challenges that HME/DME providers regularly encounter. These are accompanied by some potential ways in which they can be countered effectively: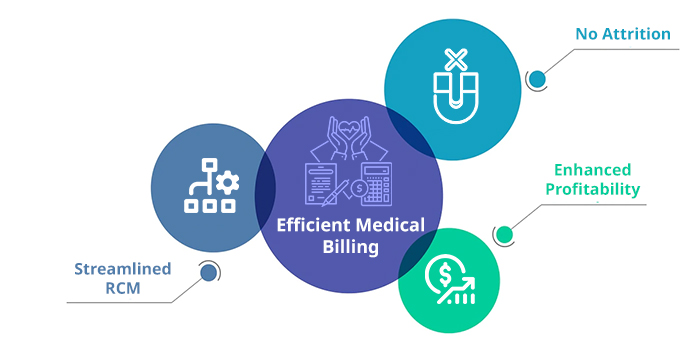 #1. Streamlining Revenue Cycle Management
Revenue Cycle Management (RCM) in DME providers influences the workforce, productivity, and, eventually, business profitability. Streamlining RCM involves three steps:
Document Review: DME Staff must review every document they receive from patients to ensure accuracy. This is to ensure that the claim application data is correct. Incorrect claim applications are liable for rejection.
Claim Filing: Claim applications must always be reviewed before submission. Missing this step can lead the DME to reject the claim, which in turn can lead to delays in the reimbursement.
Streamlining A/R: Accounts Receivable is a crucial component of the process of maintaining profitability. Timely tracking of financial transactions, including outstanding dues, is critical to preventing bad debt. Streamlining Accounts Receivable helps provide a current snapshot of missing and delayed payments, which helps staff members pursue collections.
Streamlined Accounts Receivable also help facilitate the cash posting efforts of the DME medical billing team.
#2. Ensuring an Efficiency-Driven Medical Billing Process
Building efficiencies into the medical billing process is critical to the HME/DME provider business. One of the key aspects of medical billing involves training in-house staff.
Because DME medical billing is complex, it can quickly become the HME/DME provider business's responsibility to ensure staff is not burdened or overwhelmed.
In turn, this negatively affects the business's finances. More specifically, it can impact investments that have been channeled into hiring and training for the medical billing process and ensuring smooth everyday operations.
Providing staff with adequate time and resources to carry out medical billing work is critical to efficient processes. An overwhelmed staff can quickly lead to burnout, which can result in attrition and worse — loss of money and effort invested into hiring and training staff that eventually quits.
#3. Maintaining Profitability
Ensuring profitability is a constant challenge that requires HME/DME providers to balance efficient RCM with accuracy and speed.
Businesses can also ensure profitability year-round by leveraging professional HME/DME billing provider services. Outsourced assistance helps providers address the following:
Staff burnout and multitasking
The need for accurate and reliable claim filing
The challenge of document review for accuracy in medical information
The need to ensure higher rates of claim acceptance
Efficiently managing and correcting delayed claims
Aside from this, dedicated HME/DME billing providers are diligent about Accounts Receivable follow-ups. This translates into structured RCM and better claims follow-ups to ensure timely receipt of payments.
Outsourcing assistance can be utilized comprehensively or selectively to optimize existing business resources and reduce in-house staff workloads.
Next Steps