DME billing is a complicated process. Error-free and accurate information is central to the claim submission process. Incorrect paperwork can often lead to delays and rejections, which can eventually affect the DME provider's bottom line and finances.
Thus, robust data and document management is an essential requirement for accurate medical billing, and eventually, increased financial stability for DME providers.
Factors Affecting the Financial Stability of a DME provider:
In-house Teams: Setting up an in-house team for your DME provider business could involve spending more than the amount budgeted for hiring, training, and paying out salaries, taxes, and employee benefits. All of this can deplete the business's cash reserves.
Infrastructure set-up costs: You will also need to build a robust infrastructure and ensure ongoing maintenance and upgrades and arrange for security measures for data and documents. Investments in infrastructure can represent an ongoing expense, which can further impact the financial stability of the DME provider business.
Burn-out and attrition: In-house resources can often experience burn-out due to the sheer volume of paperwork involved in claim submissions. This contributes to higher attrition rates in the DME provider business. It also cancels out the expenses carried out for employee training, salary and benefits, etc.
Loss of business continuity: Attrition can negatively affect business continuity; it can take some time before remaining resources can effectively take over and ensure correct and timely claim submissions. This loss of continuity can also affect existing work and resulting payments.
Ensuring Financial Stability
Here are some ways in which DME provider businesses can help increase financial stability for their business:
#1. Ensuring better recording of data for accurate and timely claim submission.
#2. Ensuring better follow-up on delays and rejections of claims.
#3. Optimizing software to assist in-house staff with time and attention-intensive data management and medical billing tasks.
#4. Entrusting medical billing to an outsourced partner to resolve challenges associated with staff burnout, infrastructure management, and high attrition rates.
The Advantage of Professional Medical Billing Services
Effective revenue cycle management (RCM) can help DME providers ensure better tracking of revenue and expenses. Partnering with an outsourced medical billing and data management provider, such as Analytix Solutions, can help DME providers:
Leverage professional HIPAA-compliant medical billing expertise: Streamline their RCM and drive financial stability for the business. This is because outsourced providers have their own team of trained in-house experts.
Benefit from wide-ranging EMR software: Analytix Solutions works with a wide range of Electronic Medical Records (EMR) software; we also help DME provider businesses streamline their data and documents regardless of the computer systems they use.
Ensure adherence to regulations: Regulatory compliance and compliance with insurance provider requirements are always key to effective medical billing processes. An outsourced partner, such as Analytix Solutions, can help reduce hassles associated with ensuring compliance and instead help DME providers stay informed of regulations in all transactions.
Additionally, professional medical billing services help DME providers:
Save costs associated with hiring, training, retention, etc. for in-house resources.
Save costs tied to setting up in-house infrastructure. Boost business margins.
Ensure a higher rate of success in the claim submission process.
Ensure better follow-up on delays and rejections of claims, if any.
Focus better on business growth goals and pursuit of new business, without compromising existing deliverables.
Help add value to customer deliverables or extend value-based care to customers.
Furthermore, a partnership with an experienced outsourcing partner can help DME providers with other areas of their business, such as:
Customized automation and digitization of systems, including for business operations other than medical billing. Improved financial management through stronger accounting and bookkeeping.
Comprehensive and customized assistance to ensure business sustainability.
Access to current technology and a highly skilled and trained workforce to assist with multiple aspects of business development.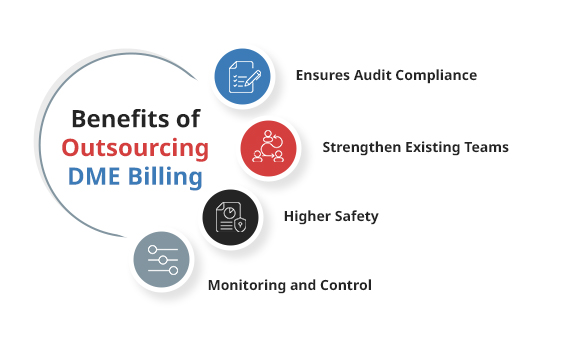 Next Steps: