According to InstaMed's Tenth Annual Report, patient collections take more than a month for 74% of healthcare providers, and over 78% said they cannot collect bills of more than $1,000 in 30 days. These delays in patient collections are creating revenue cycle issues for providers and 66% of providers agreed that patient receivables are a primary revenue concern.
The solution? Outsourcing your DME billing is often the best choice. Choosing the right medical billing company is – not surprisingly – easier said than done. It is all about asking the right questions. Read on to learn key tips to choose a reliable billing company.
Are they established, experienced and reputable?
A critical question to ask a medical billing service provider is how long it has been in business. Find out about their clients and make sure their customers are satisfied with their services. Choosing a company that has been in the industry for a considerable amount of time, as well as one that commands a reputation, helps you evaluate their track record in customer service and compliance as well as the ability to deliver success. It also allows you to leverage their industry knowledge, network, and best practices. Amateur vendors may not be skilled in these areas.
Do they demonstrate specialty expertise?
Medical billing, whether for a DME/HME or a physician, presents its own unique billing challenges. Thus, it is important to choose a medical billing company that demonstrates specialty expertise and experience. A company with specialty experience is more knowledgeable of the medical billing requirements and best practices for documentation and compliance. This can help you eliminate claim denials as well as optimize revenue cycle management.
Are they HIPAA compliant?
Choosing a medical billing company that is both ISO-certified and HIPAA compliant ensures that they safeguard your patient health information and privacy rights of patients at all times. Moreover, given the dynamic landscape post-pandemic, it is important to choose a partner that helps you stay updated with current rules and regulations.
Do they bring medical billing as well as technology expertise?
In the new normal, DME/HMEs are increasingly expecting their medical billing partner to leverage emerging technologies such as cloud computing, RPA, AI, and other technology to optimize revenue cycle management. With 50% of U.S. health care providers expected to invest in RPA in the next three years, and given that manual processes and a lack of alignment with consumer expectations are creating patient collections delays, partnering with a medical billing company that has the technology expertise to integrate the fragmented aspects of the revenue cycle allows you to keep up with the fast-evolving technology landscape.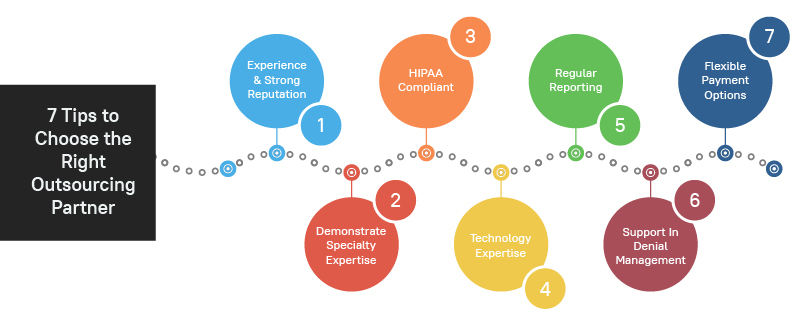 Do they prioritize detailed reporting for operations, denials, and analytics?
Transparent and regular communication is critical to reap the benefits of outsourced medical billing. Access to real-time and regularly scheduled comprehensive, granular, and meticulous reporting helps you track progress and changes to your revenue cycle. Regular reporting also allows you to monitor and keep control over your DME/HME's functions.
Do they offer support in denial management?
To what extent do they offer support in the event of claim denials? Since denial management is extremely critical to RCM, as well as to medical billing services on various levels, having a partner who can not only offer support but also help uncover the inefficiencies that are the cause of claim denials, can help fix revenue leakages and boost your bottom line, thereby speeding up payments.
Do they offer flexible payment options and fall within budget?
Cost is a major criterion when choosing a medical billing company. Look for transparency and flexible payment options. Cost alone should not drive your decision. Look at the level of expertise the medical billing company brings and the technology they use.
Partnering with a vetted medical billing outsourcing company helps you see an improvement in your billing process by decreasing errors and decreasing turnaround time. Our Analytix medical billing services team has extensive experience in developing solutions for DME and HME providers. We can partner with you to navigate the challenges that the "new normal" presents and assist your DME/HME with everything you need.
Next Steps: