Administrative complexities can hound high-volume hospital, DME/HME, and other healthcare business data, eating into time and attention that would otherwise be spent delivering patient care. Owners and operators of small healthcare businesses are often also responsible for registrations and records. The requirement to multi-task can result in lapses in information, which in turn can lead to incomplete claim submissions and lost payments. By outsourcing medical billing processes, businesses can access high-level expertise within their budget. This expertise can help the business build a roadmap to streamlined operations, higher productivity and efficiency, and long-term growth. A report by MarketWatch estimates that more than 90% of claim denials are prevented with support from service providers. Here are some more ways in which medical billing can be simplified with relevant, timely assistance:
Identify the challenges
A Becker's hospital review found that 21% respondents aren't using either in-house processes or a third-party vendor to recover their bad debt. The report found that 18% didn't re-check patient insurance eligibility. Each of these are indicative of the common challenges faced by hospitals, medical care providers, and DME/HME businesses.
Identifying the challenge is primary to accessing a workable solution. For example, a careful analysis of patient data could help identify lapses in insurance and potential non-payments by patients.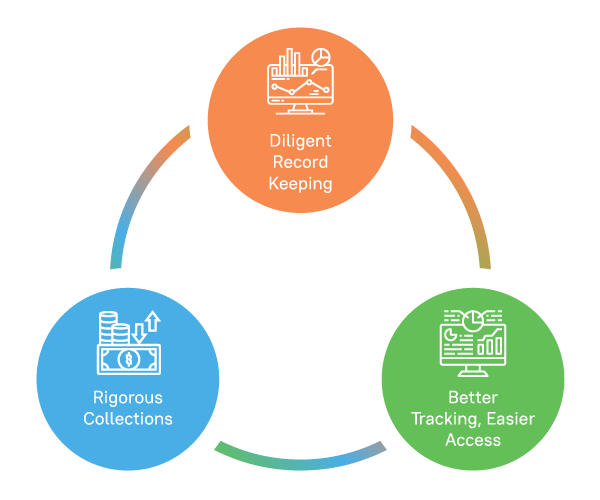 Strengthen revenue management system
Tracking dues, pursuing accounts receivable, and implementing rigorous collection techniques: all of these are elements of your revenue management system. Efficient revenue management begins at the accounting and bookkeeping stage, where every transaction, however small or large, is recorded.
A strong revenue management system helps maintain diligent records, automates the process of tracking accounts receivable (money owed to the business for products and services already delivered) accurately, and contributes to a robust collection effort, such as sending reminders for payment collection or helping communicate payment incentives to customers.
Access expertise through outsourcing
Per the Becker's Hospital review, 36% of respondents use a third-party vendor to recover bad debt. Consider some of the benefits of outsourcing medical billing processes including accessing proven expertise to manage the revenue cycle more efficiently, from the beginning to the process of collections.
Choosing outsourcing for your DME/HME medical billing process can help address several issues: identifying challenges, outlining prospective solutions, accessing infrastructure to execute solutions, and helping DME/HME businesses deal with workload through judicious distribution of tasks, including critical tasks such as bookkeeping.
What's Next?